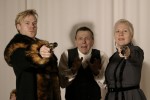 The Bear, based on Tjechovs play is the latest production of MusikTeaterVerket and I sang the part of the widow Popova as well as producing the opera.
The other two soloists where Karl-Peter Eriksson in the part of The Bear Smirnov and Torgny Sporsén played the part of the servant Luka. Mattias Ermedahl directed the piece to a fun and heartwarming performance and Svante Grogarn transformed the beautiful Bio Roy to a 18th century Russion salon.
Gothenburg Chamber Soloists with Joakim Kallhed piano, Christian Berg cello and Kristina Olsson flute played Waltons beautiful music in a new arrangement by Martin Skafte.